River Run Country Club offers the largest private racquet facility in the Lake Norman area. The tennis program offers virtually every experience for juniors, adults, families, seniors, as well as first time players, college players and professional players. Our members enjoy a variety of competitive and social league play through-out the year, including USTA and our local Clay Court League. Our teaching programs, clinics and our nationally recognized Junior Tennis Academy are led by a highly accredited, award winning tennis professional staff.
---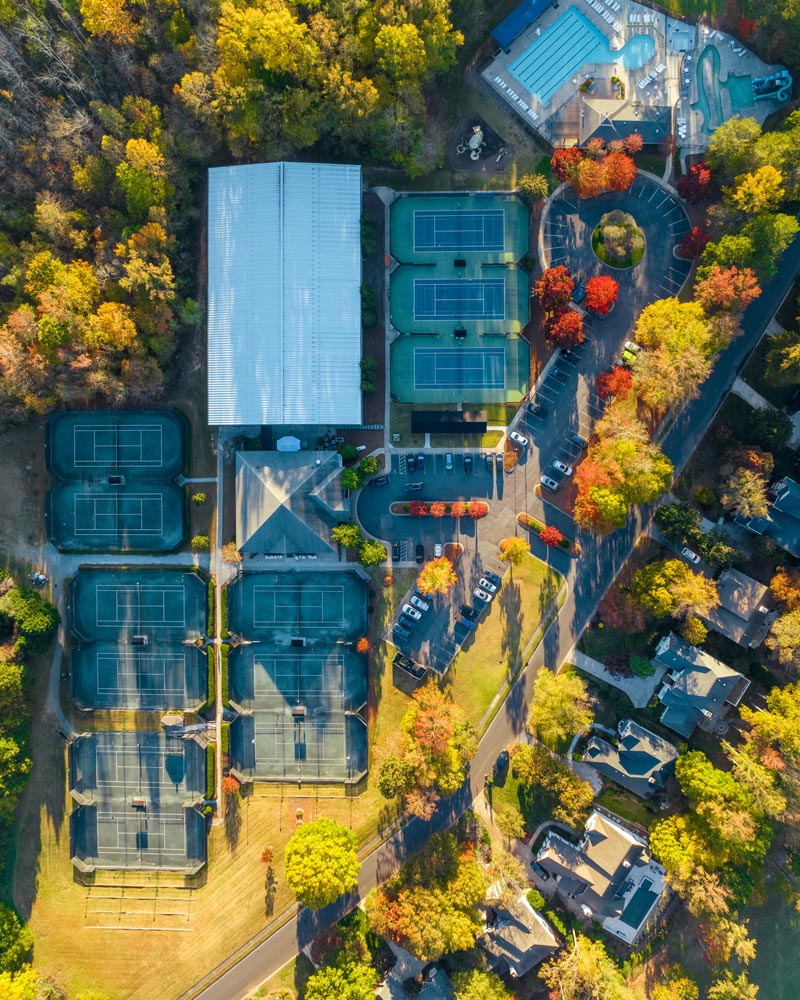 Tennis Facilities
4 Indoor Hard Courts with LED Lighting
8 Indoor Pickleball Courts with LED Lighting
3 Lighted Outdoor Hard Courts
9 Lighted Outdoor Clay Courts
6 Lighted Outdoor Pickleball Courts
Tennis Shop that Offers the Latest in Tennis Fashion & Racquet Technology
Full-Service Stringing
Facility Hours
| | |
| --- | --- |
| Mon-Thu | 8:30am - 8pm |
| Friday | 8:30am - 6pm |
| Sat-Sun | 8:30am - 4pm |
---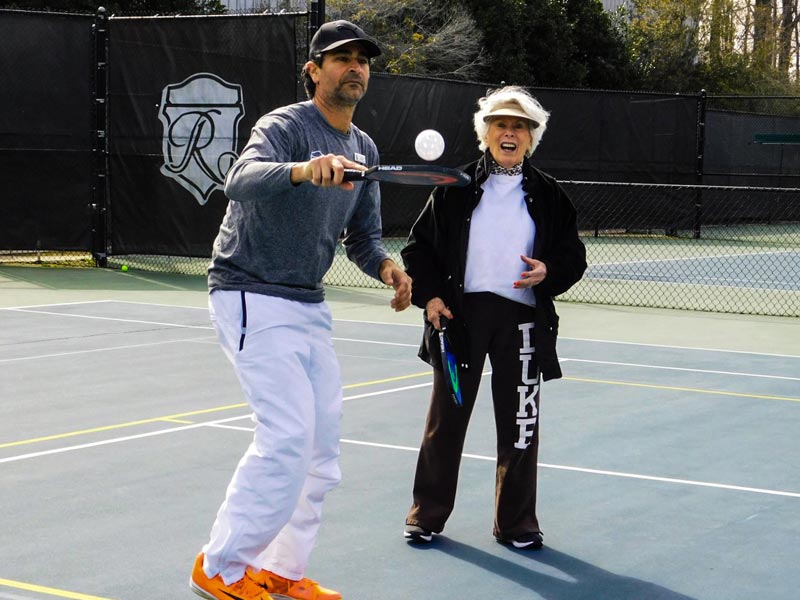 Pickelball
Pickleball is one of the fasted growing sports in the nation and River Run hosts a beautiful facility with lighted indoor and outdoor regulation pickleball courts. George Husk, the Racquet and Sports Center Director, is a certified Professional Pickleball Registry Pro (PPR) and is available to answer any questions or schedule a Pickleball assessment.
In March 2020, River Run Country Club hosted our first Pickleball Tournament with 115 players, including Corrine Carr, one of the best players in the world. We currently offer open play pickleball throughout the week.
---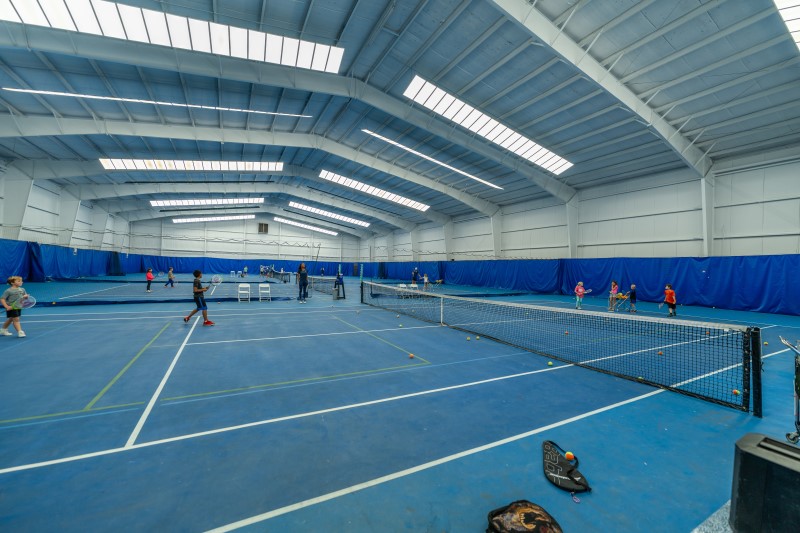 Indoor Tennis
River Run has some of the best indoor lighting in the region. Our LED/PANEL lighting system provides exceptional lighting with no glare or shadow effect. We are the only indoor facility to have LED indoor lighting in the area, providing our players the ultimate quality of light for playing tennis. As the weather cools down, we offer three great ways for members to play tennis indoors:
Indoor Tennis Leagues
Weekly Permanent Court Time for Group Tennis
Single Reservations
USTA/WIC Teams
Seasonal Rates Do Apply
---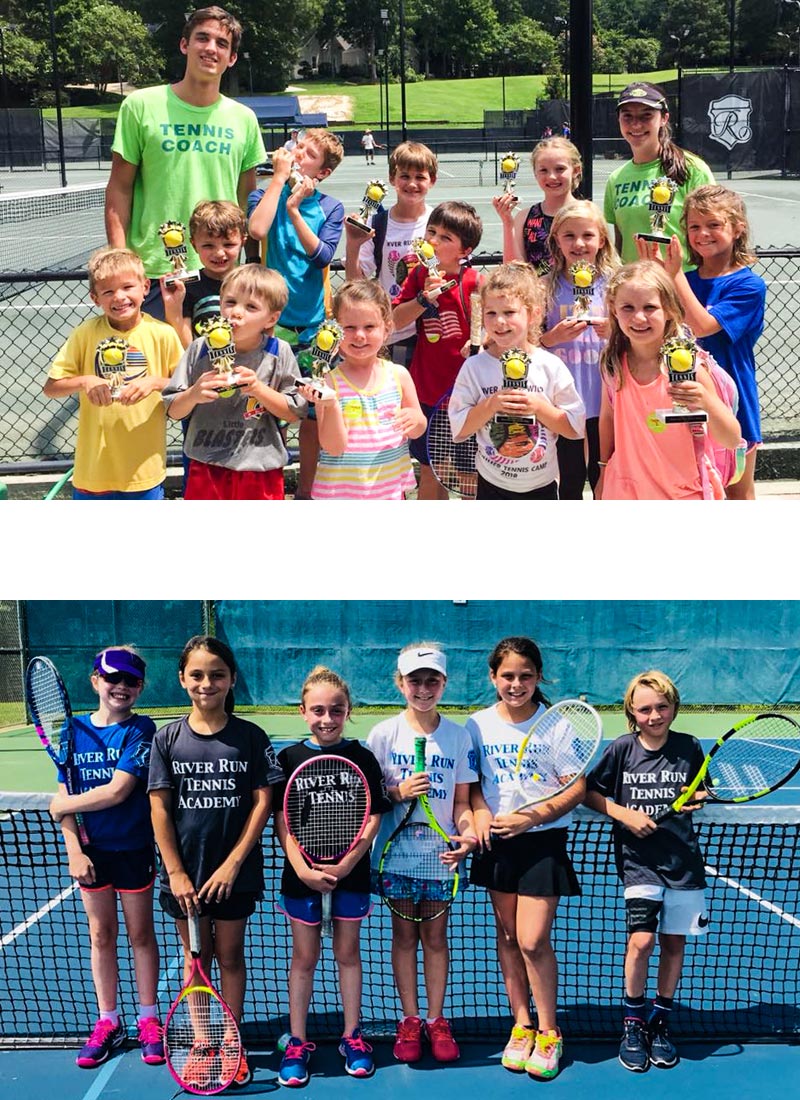 Junior Tennis
River Run's Tennis Academy has a long history of developing outstanding tennis players. With our new staff, we have set our sights on becoming one of the best academies in the country. We build players from the ground up in an athlete-centered environment with a long-term development pathway.
Our proven development comes from the experience of our staff having worked with multiple USTA #1 ranked juniors as well as current and former pro tour players. Our system runs much like a school curriculum and runs all classes on a semester basis. The goal is to progress each student to the next level after several semesters based on their progress.
In some circumstances, we will allow a player to join a class mid-semester, though typically we encourage players to start at the beginning of a new semester.
We use the International Tennis Federations ball progression development system where kids use correct sized racquets, court dimensions and balls that suit their current age and skill level: (Red/Orange/Green/Yellow)
Our Academy staff holds the highest level of education in the tennis coaching industry, and their alumni have received scholarships at over 40 of the best Division 1 programs in the nation.
*To participate in the Junior Tennis Academy, all participants must be a River Run Country Club Member.
---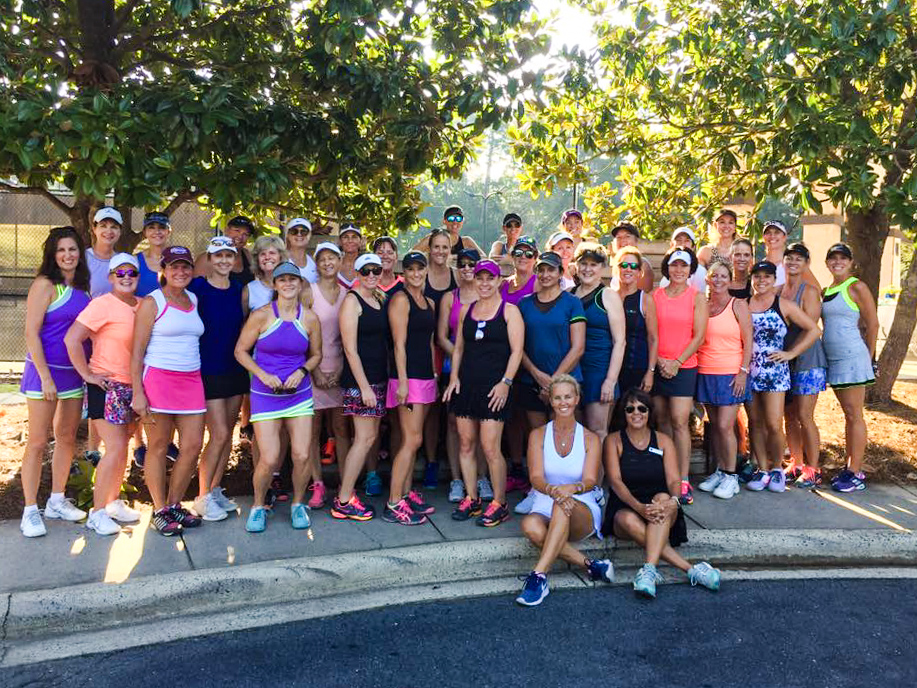 Groups & In-House Leagues
Enjoy competitive league play representing your Club with the potential for local, state, regional or national championship playoffs. Players may also participate in River Run Country Club exclusive competitions.
Competitive Leagues Include:
Women's Piedmont Interclub League | Spring & Fall
USTA Men & Women | Spring, Summer & Fall
River Run Winter Indoor Tennis & Pickleball Leagues | November - February
Men's 4.0+ Summer Singles League | July-August
River Run Team Cup | June - August | November - February
---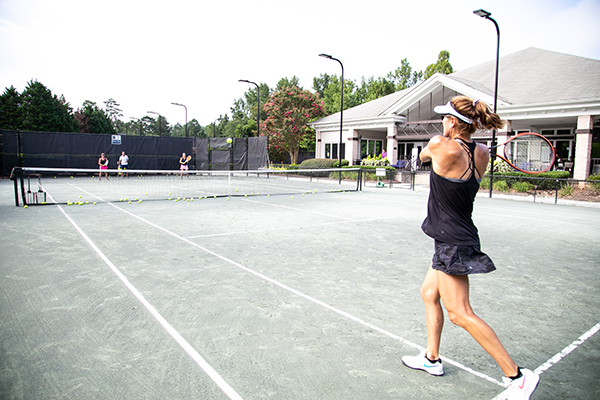 River Run Tennis Team
The River Run Tennis team is one of the most accredited, award-winning professional teams in the state. As a River Run member, private lessons, semi-private or group lesson are available to you. For more information or to schedule time with one of the professionals on the team, please contact the Tennis Shop at (704) 892-4994.
---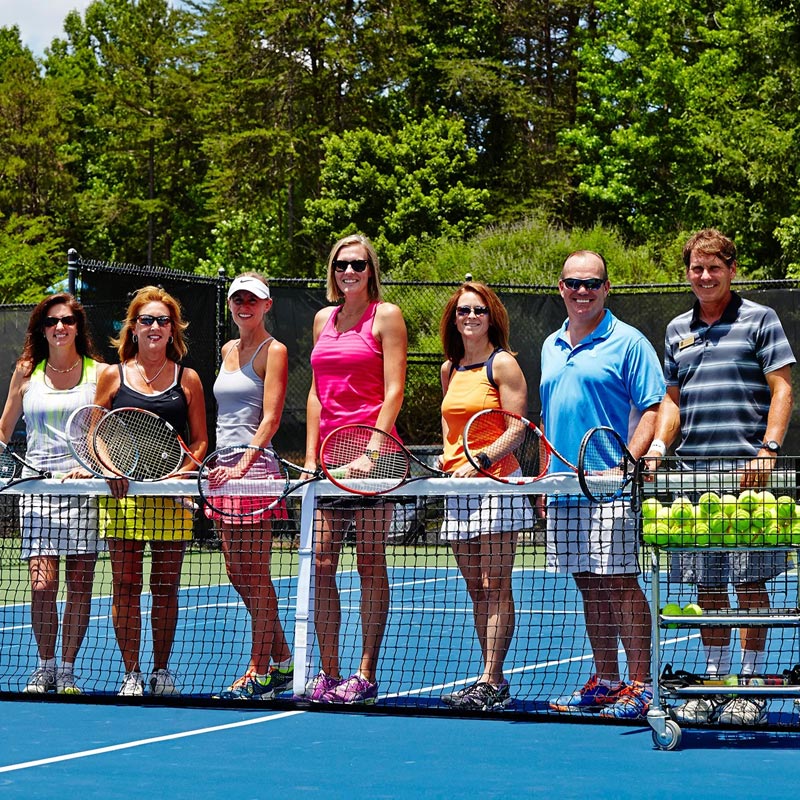 Tennis Lessons
Lessons with Professionals
George Husk, Director of Racquet Sports
RJ Murray, Junior Academy Director
Yaser Zaatini, Head Tennis Professional
Milton Fleming, Tennis Professional
Kayla Carter, Tennis Professional
Will Crane, Tennis Professional
Ball Machine
Hourly Rates or Annual Passes are available
---
WIC In-Season Team Practices
River Run has 6 Ladies Inter-Club Teams ranging in skill level from 2.5-5.0. Each team has a formal team practice one time per week for 1.5 hours to prepare for weekly match play vs other clubs in the newly formed Lake Norman Clay Court League. Practices are focused on a specific system of doubles play designed for our teams.
Men's Pro Drills
This is the mainstay drill program developed by our Director of Tennis and modeled to simulate a two-hour college tennis team workout. The program is suitable for all player levels from 3.0–5.0 as players are grouped by ability level. During the first hour, the pros guide players through a series of live ball drills focused on consistency and accuracy to create a heart-pumping work out. In the second hour, the pros divide the players into teams where they play two half-hour rounds of doubles/singles while the pros provide coaching.
Saturday Co-Ed Cardio Tennis Clinic
This class is the ideal mix of tennis and a heart-pumping aerobics class. If you want something different from your typical aerobics class, then Cardio Tennis is for you. Our pros are Cardio Tennis Certified, meaning they run the class and teach the proven cardio drills that provide the ideal exercise that only Cardio Tennis can provide. The class is open to all ability levels and is limited to eight players per court.
Ladies Tennis Technique Class
Led by Director of Tennis George Husk, this class is focused on the key fundamentals for all the critical strokes and strategies of the game (i.e. Forehand, Backhand, Volley, Overhead, Serve, Doubles Strategy). Students will learn and train the key fundamentals that will allow them to quickly improve their strokes and overall game. Once the skill is trained in a closed setting, George will put players into live point play to see how the skill holds up. This known system of training followed by point play is proven to develop skill in the fasted possible way. This class is limited to 6 players.
Pickleball 101 Clinics
Led by Director of Racquet Sports and Certified PPR Pickleball Professional George Husk, these monthly clinics will jump start anyone into the amazing game of pickleball. You will learn the basic rules, strategies, and strokes that will get you playing games in no time. The clinics start July 7th and are limited to 8 players. If there are less than 4 players, the pros hourly rate will be divided by each participant.